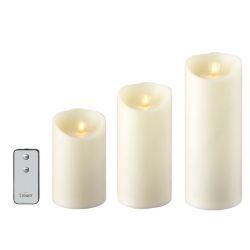 Looking for something classic with a new twist? Consider flameless candles. A beautiful, safe alternative to traditional candles. No dangerous flames or residue from the smoke - yet the soft natural glow of a traditional candle.
Twigs and Candles offers a wide variety of flameless candles with all types of shapes and sizes at a great price. From outdoor and indoor flameless candles to rechargeable flameless candles, as well as tea candles. With so many options to choose from, you may have a hard time deciding. So why not pick up multiple types? Many come with a remote control.
We are passionate about what we offer because we as a company want to make you happy! We love the fact that our customers choose our products to beautify their homes. We only offer the best products in the business because we don't want to settle for something less. Give us a call today if you have any questions or want order any of the varieties of our flameless candles. The possibilities are endless!
Shop our flameless candles online store category.