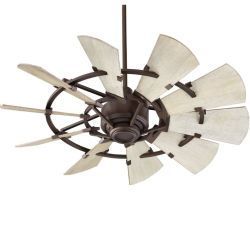 Don't buy just any kind of Windmill Ceiling fan. Purchase the Original Windmill Ceiling Fans.
You want the highest quality product with the most stylish design. That's what our great family owned company is all about! Our windmill ceiling fans are unique, handcrafted and fully assembled in the heart of Texas. That's right, we handcraft our fans and they are made right here in the USA! Each one of our stylish fans is constructed of durable, lightweight aluminum making existing supports and electrical service perfect for simple installation. They are perfect for interior or exterior placements.
Here is a list of features on our windmill ceiling fans.
Eighteen Blades for optimal balancing
Available in 46", 52", 60", 66", 72", 84" and 96" diameter sizing
Efficient motor integration design
None or minimal assembly required
Quality aluminum American made parts
Variable Speed
Free consultation and advice
Accessory Kit includes everything needed for installation
Fan weight is approx. 40 to 60lbs depending on the size and finish
Windmill Ceiling Fan Company is the only one that provides the unique aluminum lightweight design and custom finishes. You will love their stylish, well made fans. They are passionate about what they do and have some of the best support in the industry. They have been in business many years and have earned a great reputation.
Visit our Windmill Ceiling Fans page to view our great selections!